"Big John Bates" came out of late 90's second-wave Psychobilly tho he started as co-writer/founder of thrash metal legends Annihilator. BJB earned his stripes doing over 2000 shows in 20 years of touring. Everywhere he could – Europe, Canada, Japan and the American underground punk circuit from Washington to Florida. Since 2012 his touring band has been the Noirchestra and they've released four albums of Garage / Americana.
REVIEWS
"With Skinners Cage, Bates and company have taken their sound from southern-gothic Americana to something approaching a mutant hybrid of postpunk and Weimar Republic cabaret. The addition of violinist RequiEmily to the usual line-up of Bates (guitar, banjo, vocals), Brandy Bones (bass, cello, vocals), and Ty-Ty the Saviour (percussion) certainly helps in that regard. Consider that the Noirchestra recorded Bertolt Brecht and Kurt Weill's "Moon of Alabama" for this LP—a midnight-exorcism version that will make you want to throw your copy of The Doors onto a Samhain bonfire. So, yes, this music will make perfect sense in Köln and Dresden, and it might make sense to you too, if you've ever wished Jeffrey Lee Pierce had lived long enough to make the cabaret-noir record you always knew he had in him." John Lucas (Georgia Straight)

"The third album to come from the tireless touring machine that is Big John Bates, Big John Bates: Noirchestra now finds the musician stepping out into slightly different terrain. The songs are less full-on rock attack and more exploring of textures and variations while still working firmly in the Americana Noir genre the band is known for. Having been involved in thrash metal (Annihilator), garage (Voodoo Dollz) and goth (Bates Motel) one constant has held with every project from Big John Bates. The music all sounds like it will go over well in concert and it does." Stuart Derdeyn (Vancouver Sun).
"Headless Fowl is cool indeed"
– Jello Biafra (Dead Kennedys)
"A voodoo guitar player to watch"
– Total Guitar Magazine (UK)
"One of Vancouver's most notorious musicians"
–The Globe & Mail (Toronto)
"Big John Bates has moved to dark roots rock as evidenced by their opening song "Amerkin", a track with a soul- shaking beat. And while the music may have changed, the intensity and fervor of this band's live performance has not. Bones shines in all her sultry, gothic temptress glory. She is the true master of her massive bass, using it as not only a tool to make music but as an instrument of seduction. "Taste the Barrel" showcased Bones' eerily whispery vocals, accompanied by Bates' banjo sounding guitar, giving the song a true dark country feel. Fans lined up outside didn't know what they were missing, and if they did, they were all the sadder for it." –Music Examiner (Toronto)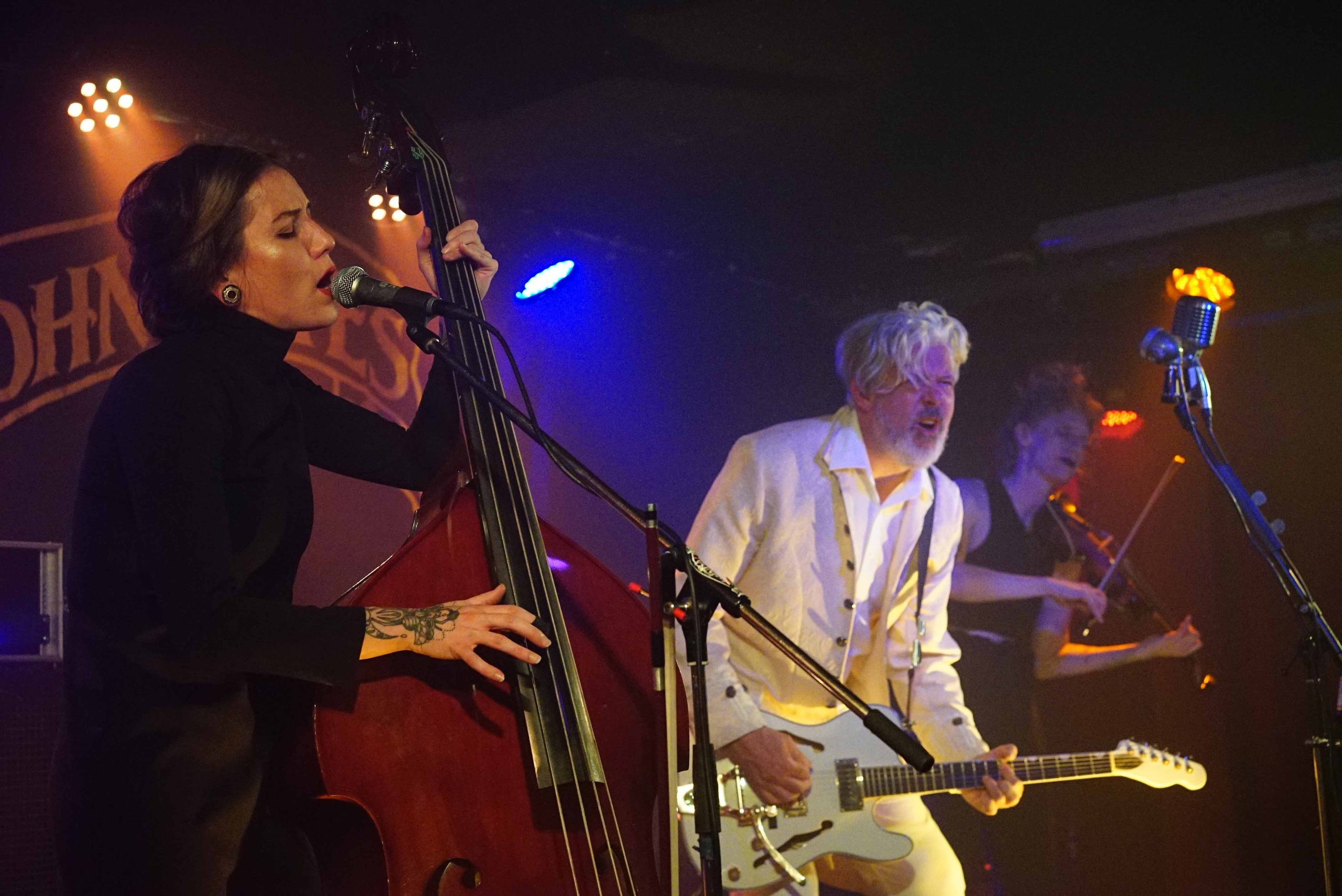 Contact
EU BOOKING: JENS@TRUEMMERPROMOTION.COM
SPAIN: ALBERTO@ELBEASTO.COM
ITALY: CATTIVIGUAGLIUNISTAFF@GMAIL.COM
USA: MICHAEL@ATOMICMUSICGROUP.COM